Chiropractic Care in Westford & Chelmsford MA
Be the Best You Can Be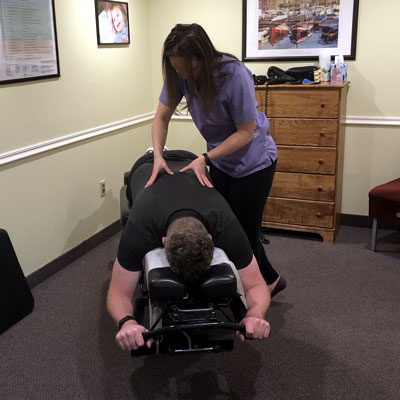 Chiropractic is a healthcare discipline that emphasizes the inherent recuperative power of the body to heal itself without the use of drugs or surgery. A chiropractic adjustment typically involves a specific force applied to a vertebra, aiming at correcting subluxations (spinal misalignments). The goal of adjusting the spine is to restore proper motion, improve spinal function and remove interference from the nervous system.
The Vertebral Subluxation Complex or "subluxation" is a misalignment and dysfunction of one of the bones in your spine (vertebra). This dysfunction compromises the normal functioning of your nerves and can influence your overall health and well-being. The adjustment is vital for restoring normal joint function, range of motion and improving overall health. Chiropractic is safe, gentle and effective for adults, pregnant women, children, and babies.
Benefits of Chiropractic Care
Better function for an improved quality of life
Posture corrections
Improved sleep, energy and vitality
Pain reduction and/or elimination
The ability to enjoy the things you love to do, such as playing with your kids, exercising, playing sports, gardening, etc. without suffering afterward
Conditions That Chiropractic May Help
Many of our patients have found relief from conditions such as neck pain, back pain, headaches, sciatica, arm pain, and pain in the extremities. We have also helped people recover from car accidents, vertigo, pregnancy related back pain, plantar fasciitis, poor posture and more. Chiropractors do not claim to cure any ailment or disease through chiropractic care. By removing subluxations, we allow the body to heal itself and restore balance. Therefore, chiropractic adjustments are known to help with conditions such as digestive issues, reproductive issues, ear infections, allergies, asthma, etc.
Our Research-based Techniques
We use both tried-and-true manual chiropractic techniques, as well as cutting-edge instrumentation approaches:
Activator Methods™: involves no twisting or popping of the spine.
Diversified: a classic and highly-respected manual adjustment style.
Spinal decompression: includes cervical and lumbar decompression.
Thompson Drop Table: a gentle approach that utilizes a special table with drop pieces.
Book an Appointment Today
Whether you prefer an adjustment style that requires no rotation of the neck or spine, or a traditional manipulation approach, we can accommodate you. We're here to put you at ease while you blossom and flourish. We feature on-site X-rays, electric stimulation, moist heat therapy, cold laser therapy and in-office massage therapy. Insurance is accepted. Contact us today for a same-day appointment!
CONTACT US »

Chiropractic Care Westford, Chelmsford MA | Becoming Balanced LLC