Cold Laser Therapy in Westford & Chelmsford MA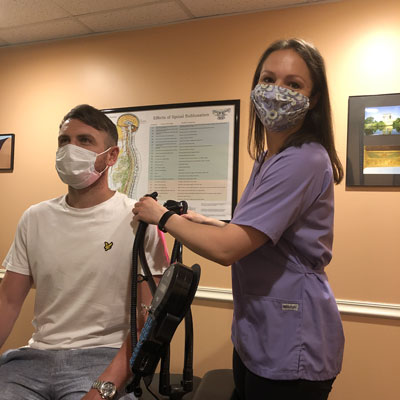 Cold laser therapy is a highly popular therapy that's helpful to anyone suffering from injury of any kind. It's used extensively in sports injuries to help heal injured tissue. Cold laser therapy can be beneficial for everyone from weekend warriors to professional athletes.
This technologically advanced tool focuses therapeutic light to injured tissue. This stimulation encourages a faster rate of healing.
Benefits of Cold Laser Therapy
During your sessions, these are some of the benefits and advantages to this state-of-the-art therapy:
Decreases in muscle spasm and increases in range of motion
Diminishment in inflammation
Extensive pain relief
Increases in blood circulation, which promotes healing
Non-invasive and painless applications
Reduction in swelling
Tendonitis relief
Make an Appointment Today
This cutting-edged therapy is particularly useful for anyone suffering from nerve pain or inflamed joints. Our clinic has had exceptional success with conditions such as plantar fasciitis and neuropathies.
We also give our patients a choice when it comes to how they wish to take advantage of this therapy. It can be used as a stand-alone visit at a fee of $30.00. Or, if combined with a chiropractic adjustment, the cost is only $15.00. Contact us today!
CONTACT US »

Cold Laser Therapy Westford, Chelmsford MA | Becoming Balanced LLC