Functional Medicine in Westford & Chelmsford MA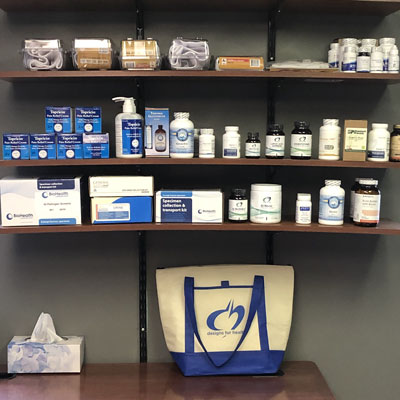 Functional Medicine, rather than targeting individual symptoms, focuses on the optimal functioning of the entire body and its organs. It addresses the underlying causes of disease, using a systems-oriented approach in partnership with understanding the conditions and history in which the disease manifested. Genetic, environmental and lifestyle factors all have a direct influence of long-term health and chronic health issues.
Functional Medicine addresses many chronic symptoms such as weight gain, fatigue, depression, anxiety, hormone imbalances, autoimmune disorders and digestive problems. These conditions are typically misunderstood/misdiagnosed by conventional medicine practitioners who attempt to address the symptoms, not the root cause/damaged system.
Dr. Jordanne's main focus and expertise is on chronic or acute digestive issues.
Results vary by each person. Some people feel dramatic improvement within the first month, others may take a bit longer. Our standard programs are for an average of 6 months. Remember, your body didn't fail overnight. Years of stress and illness take its toll and it takes a proper amount of time to restore. On average it takes one month of repair for each year you've suffered from a specific problem.
Let's Get Started!
Whether you have a specific condition you are concerned about or if you just want to bring your health to the next level, Dr. Jordanne is here to help. Often lifestyle coaching and nutritional counseling can make a huge difference. Dr. Jordanne will determine whether lab work is recommended, as well as any supplements for your specific needs.
We'd love to welcome you as a new patient. Do you have a health problem that you've been struggling with? Have you lost hope? We may have the answer you've been seeking. Contact our caring office today for a same-day appointment!
CONTACT US »

Nutrition Counseling Westford, Chelmsford MA | Becoming Balanced LLC